Living off the lakes
Recently there has been some controversy regarding travelers making attempts at a hunter-gatherer lifestyle while staying in Iceland, often with mixed results. A large camper rental company encouraged its customers to try and "live off the land" for as long as they could and some highly questionable behavior of other visitors was placed in this context both by the media and the outraged native public. One group of tourists was fined a large sum after having hunted and killed a lamb while others were caught inadvertently poaching in one of the country's most expensive salmon rivers.
First of all, we want to make clear that we would never recommend living solely off the land in Iceland. We need only to look at the nation's history to see that simply "living off the land" is easier said than done. Despite the fact that Iceland covers an area greater than for instance Hungary, Portugal or South Korea, the land was never able to sustain more than 50.000 people during its first thousand years, from settlement in the 9th century and until the 19th century, only surpassing the 80.000 people mark in the beginning of the 20th century. Iceland is certainly rich in many resources, but we can all agree that bountiful wild fruit and game are definitely not the country's strong suit. However, it is worth pointing out that while living completely off the land may be difficult, there is a simple and inexpensive way for mini camper travelers to provide themselves at least one ingredient towards a delicious meal.
                We have often mentioned that what makes Iceland ideal for exploration in a motor home is the numerous campsites and swimming pools spread freely around the country. A close third, in our humble opinion, would be the great number of rivers and lakes that are teeming with arctic char, brown trout and even the odd salmon. While fishing in rivers can be very expensive, especially where there's even a small chance of catching salmon, lake fishing is mostly very reasonably priced. What the mini camper traveler can do is simply drive around with an eye open for this sign: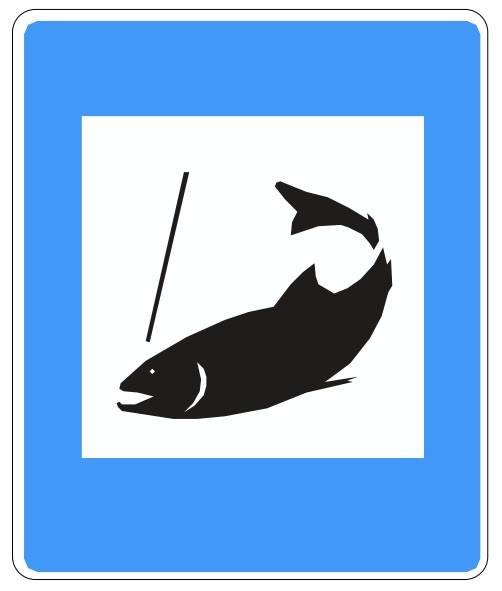 This sign is posted by the many farms that sell access to rivers, streams and lakes on their land and in most cases prices are fair, normally between 1500-2500 ISK for a daily permit. The farmers selling the permits are often very knowledgeable about the lakes or streams on their land, and are usually eager to provide information about where, when and how to catch something in their waters.
 Another course of action would be to buy the Veiðikortið (Eng. The fishing card, see here: http://veidikortid.is/index.php?lang=en) which grants (mostly) unrestricted access to 35 lakes around Iceland. Veiðikortið costs 6900 ISK and is valid for the full calendar year although the best time for lake fishing is usually from April through September, depending on the lakes (the Veiðikortið website provides more information about each lake's peak season, optimal time of day, best bait etc.). As for the fishing tackle needed, the lakes mostly have trout, typically from 0.5-2.0 kilos, so catching them doesn't require anything more than a small fishing rod which can either be bought in here Iceland or brought from abroad (in which case all fishing gear must be disinfected beforehand). What makes the Veiðikortið fishing card especially suitable for mini camper travelers is the fact that the lakes are spread around every region of Iceland and many of these offer free camping grounds for cardholders (amenities vary) so that it is easy to plan one's journey in such a way that each day can end with some afternoon fishing and a lakeside dinner. With a bit of patience and luck you might even catch yourself the main ingredient for Iceland Mini Campers' s own recipe, designed especially by ICM's chef for cooking on a mini camper stove.
IMC's Super Special Lakeside Fried Trout
Ingredients:
A few fillets of freshly caught trout (depending on availability)
A leek
Almond flakes
A lemon
Method:
Slice the leek and fry it lightly with the almond flakes in a skillet and put aside when done. Fry the fillets with the skin facing down, flip them once before they are cooked through and be careful not to overcook. Add fried leek and almond flakes and cook everything together for the last minute or so. Serve with a squeeze of lemon and some couscous, potatoes, fresh salad, nice bread and butter or whatever else you can think of.  
Bon appetite!
Drive safely and enjoy!
IMC